From style to safety installations and flexibility, these amazing facts will help you choose a flat extension cord perfect for your needs. 

Know What Extension Cord is Right for Your Needs

 
Extension cords come in three categories: rugged, occasional, and frequent. You can find out what type of cord you are getting by checking the packaging for designation letters:
 
W – denotes extension cords meant for outdoor use. You can easily differentiate these from indoor extensions by looking at the insulation. Cords for outdoor use come with heavy-duty plastic, rubber, or vinyl covers.

 

S – denotes general-purpose indoor cords.

 

P – denotes household extension cords that come with parallel wiring.

 
J – shows that the extension cord is fitted with 300-volt insulation, which is standard.

 

E – used to show cords with thermoplastic elastomer rubber (TPE) as covering.

 

T – denotes cords using vinyl thermoplastic on the cover.

 

O – denotes that a cord is oil resistant.




 
Run Extension Cords Along the Building

 
Running your extension cords along the wall rather than leaving them lying on the ground is canny. This way, the cord can't trip you or get damaged when it's trampled. Keeping your extension cords away from damage such as this keeps them serving you for longer. Remember, too, that your extension cord could be a fire hazard when the wiring comes exposed. Aside from protecting your extension cord, running it along the wall ensures that the cord stays plugged in as it is not pulled and tugged as it lies on the ground.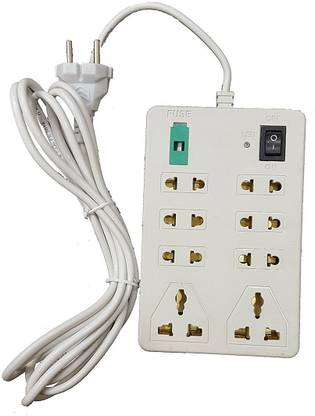 Wrap Your Extension Cords Fast

 
Wrapping your extension cord can be a chore. With entangling wires, the whole process can be longer than anticipated. Well, there is a way to wrap your extension cords quickly and safely. To wrap your extension cord correctly:
 
Get hold of both ends and wrap it in loops the size of a beach ball.

 

Wrap the remaining loop around the middle of the coils as you get to the end of the cord.

 

Pass the cord through the coils to make a loop. It's a super-fast way to wrap your cords so that they don't entangle and also lets you hang more than a few cords on one hook.




 
Try this when you are in a hurry, and see how quickly you finish up. 
Avoid Plugging an Extension Cord into Another




 
Getting an extension cord with the correct length is one of the things to consider when getting new cords. Power boards come in different lengths for a reason. Get an extension cord with the right length, and you get to enjoy its convenience while staying safe. After 100 feet, your typical extension cord becomes too short.
 
You get tempted to connect one extension cord to another at this point, but you shouldn't. The main reason this is a bad idea is that it increases the resistance on the cords. With increased resistance, you place yourself at risk of a fire. The trick to get around this would be installing a temporary power distribution box.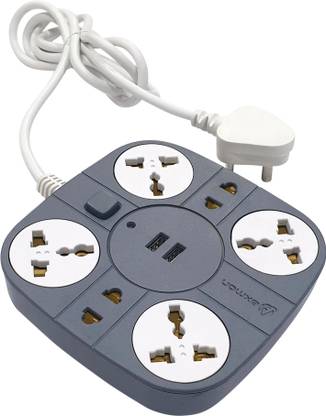 Items You Should Never Connect to an Extension Cord




 
We all have appliances or machinery with high energy usage. Connecting these to an extension cord almost always asks for trouble as it creates a fire hazard. One of the reasons this could be hazardous is that most people just leave the extra cord lying around or wrapped neatly behind the appliance. This leads to heat retention on the coil, melting the insulating jacket and causing a fire. Several items should never be plugged into an extension cord: 
Irons – It's bad to plug irons or other heating-producing appliances into an extension cord. These draw about 10-12 amps of power, more than what most indoor extensions can take.

 

Toaster – A toaster is a heat-emitting appliance that should be plugged directly into the wall socket. Find an outlet away from the sink to use for appliances like these.

 
Coffee Pots – This is yet another appliance in the house that draws up to 12 amps of current. This is beyond what most indoor extension cords can handle.

 

Treadmills – Even the manufacturer will discourage you from plugging a treadmill into an extension cord. However, you can always get a heavy-duty cord if there is no way to get it close enough to the wall socket. Get the Treadcord which runs for 9 feet.

 

Hair Dryers – Yet another heat-producing home appliance that you should not plug into the extension cord for its high current, which goes up to 15 amps. This is enough power to heat the cord and start a fire.

 

Portable and space heaters – Space and portable heaters can be moved closer to the wall outlet. We recommend you do this to stay safe.




 
Final Words 
Extension cords can be a big help in the workplace and around the house, but only if you use them right. Think of extensions as emergency apparatus rather than the norm. Power extenders are not the solution to inadequate wall outlets. Get a professional to add more outlets if you need more appliances plugged in than you have outlets for.
 
While it may seem like a quick fix, using extension cords to increase the number of usable outlets could cause untold damage in the long run if you are flouting safety rules for extension cords. Use the information in this piece to stay safe as you use power boards indoors and outdoors.